2017 Season Preview: Georgia Bulldogs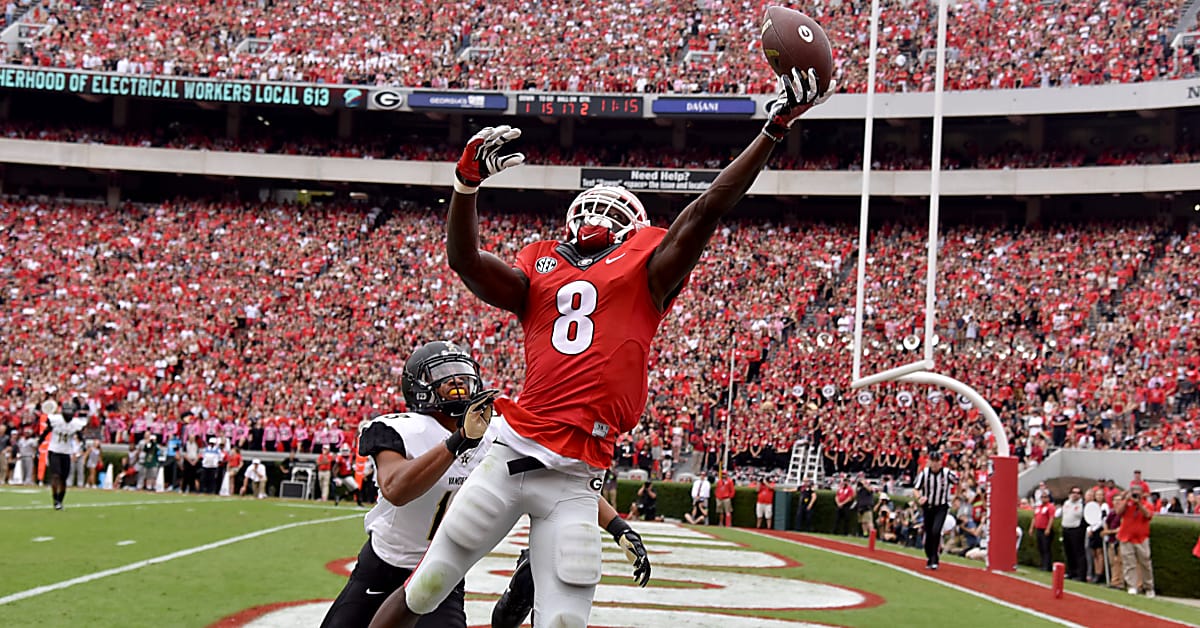 by Chris Paschal
The Georgia Bulldogs have not done anything extremely significant since 2005. That was the last time they won an SEC Championship. You could make the argument that since 2005, Georgia has only had one season (2012 – beat Florida, won 12 games, and almost upset Alabama in the SEC Title Game) in which they felt like one of college football's premier programs. In 2007, the superior Bulldogs lost to an inferior South Carolina team and got killed in Knoxville, costing them a SEC East Championship. In 2008, Georgia was a preseason favorite to contend for a National Title. What happened? They got killed by Alabama at home, were blown out by Florida in Jacksonville, and lost a heartbreaker to Georgia Tech. In 2015, the Bulldogs were favored to win the SEC East. They got massacred by Bama at home, blew a huge lead in Knoxville to the Vols, and got embarrassed by the Gators, costing Mark Richt his job.
Detecting a trend? Preseason hype normally doesn't translate into big-time seasons for the Georgia Bulldogs. That is why I hesitate to say that the Bulldogs are my pick to win the SEC East. But maybe under head coach Kirby Smart, Georgia's favorite son, the Bulldogs will live up to expectations, live up to the hype, and translate great recruting classes into championships.
Offense
Quarterback: This was not a good offensive team. Yes, you could point to inconsistent play up front, but for me it all boiled down to Jacob Eason playing like a freshman last season. The good news is that Eason was only a freshman. It was insane for Bulldog fans to expect Eason to come in as a true freshman (no matter how highly recruited he was) and put up gaudy stats. Georgia fans had been spoiled by freshman quarterbacks since the turn of the century. David Greene put up big numbers in his freshman season. So did Aaron Murray his first year as a Bulldog. But you know who didn't? Matthew Stafford. Now Stafford is considered one of the best quarterbacks in school history, and he is a star in the NFL.
While Eason's play was not as good as Greene's or Murray's, he did a lot better than Stafford in his freshman campaign. There is a lot to work with in Jacob Eason (6-5, 235). He has a cannon for an arm and he is a big guy. Plus, he now has a season under his belt.
However, if Eason does not pan out and play the way the Dawgs expect him to, Georgia has another option in true freshman Jake Fromm. To be honest, if I were building a team from scratch and I needed a quarterback, I would pick Fromm. He has a durable, athletic build (6-2, 230), more elusive than Eason, and also has a strong arm. Further, according to coaches, Fromm has picked up the playbook very easily. Kirby Smart said Eason and Fromm were battling it out to see who would start week one. While I would be shocked if Eason didn't win the job, it is always a good idea to have two quarterbacks ready to play, especially since behind the two of them Georgia doesn't really have another option. In a perfect world, Eason has a great sophomore season, and Fromm is able to redshirt.
Running Back: When you have Sony Michel, Nick Chubb, Brian Herrien, and Elijah Holyfield in the backfield, it alleviates a lot of the heartburn quarterback questions tend to cause offensive coordinators. Of course, of the the four, Chubb and Michel are the studs of the running back corps. Both Chubb and Michel passed up almost guaranteed chances to be drafted in the 2017. The Bulldogs have long been considered to be one of the best backfields in college football, and this year proves to be no different. Georgia's backfield is just as good as Alabama's.
Oh, and by the way, Georgia signed D'Andre Swift out of Philadelphia in the 2017 recruiting cycle. He was one of the nation's top prospects. And in 2018, Georgia has landed a commitment from Zamir White out of Laurinburg, North Carolina. White is the highest ranked running back prospect.
Wide Receiver/ Tight End: If only there was an A.J. Green, Hines Ward, or Terrence Edwards on this roster. Georgia is one big play receiver away from being a potent offense. Georgia has two decent receiving options, however – that is if they step up and play to their potential – should provide enough of a passing attack to help balance this Georgia offense. The first is Riley Ridley. Besides catching what should have been the game winning touchdown against Tennessee last season, Ridley hasn't done much. But Ridley has all the talent and potential to play like his biological brother, Alabama star, Calvin Ridley, and put up solid numbers this fall.
The second is the undersized, but not under-talented (made up word) Terry Godwin. Godwin was a massive recruit in 2015 . He was considered to be the top prospect out of the state of Georgia, and up to this point he hasn't proved he was worthy of that hype.
However, the best weapon in the passing attack could be tight end Isaac Nauta (6-4, 245). He is big enough to dominate a majority of defensive backs, and fast enough to cause issues with a lot of linebackers. Nauta is a natural pass catcher, and he should play a huge role in Georgia's pass offense this season. Yet, he only had 29 receptions last season. Georgia needs to double the amount of receptions he has this year.
Offensive Line: This was a small, weak offensive line last season, and they played like one. This season, the offensive line should be improved, but it still won't be as good as most other teams they will compete against. The offensive line is the biggest question  mark for me. If this offensive line improves in year two under guru Sam Pittman, then the Bulldogs will win the East. However, if the play does not improve, or even regresses (Georgia does lose 2016 starters tackle Greg Pyke and center Brandon Kublanow), then I think Florida wins the East.
Three names to remember: senior Isaiah Wynn – a talented, but somewhat undersized potential left tackle or guard, freshman Isaiah Wilson – a monster recruit out of New York who gives Georgia some SEC size up front (6-7, 350), and senior tight end Jeb Blazevich – up there with Hayden Hurst as one one of the best blocking tight ends in the SEC.
Defense
Defensive Line: This is why Georgia is winning the East. Not only is the defensive line talented, but it is deep. It all starts with Trenton Thompson. Thompson (6-4, 295) is athletic enough to rush the passer and big enough to be excellent in run defense. Look for Thompson to have a big junior season even though he sat out the spring due to injury. As good as Thompson may be, the stoutness of the run defense will be determined by big John Atkins (6-4, 310). Atkins will man the nose position. Both Thompson and Atkins are poised to have excellent seasons up front for the Dawgs.
Another guy Georgia fans should be excited about is defensive end Jonathan Ledbetter. At 6-4, 270, he is the perfect size to play the end position in a 3-4 scheme. I think Ledbetter will have just as big of a season this year as Thompson does, making this Georgia defensive front a scary one. Georgia has also recruited well at the position. Sophomores David Marshall and Julian Rochester offer depth at the defensive end positions, and true freshmen Robert Beal, Malik Herring and Devonte Wyatt were all highly sought after in 2017.
Linebacker: This is the best linebacking corps in the SEC. Heck, it may be the best linebacking corps in the country. They are all return from last year too. Lorenzo Carter (6-6, 245) decided to come back for his senior season. He is a pass rushing specialist, and will be motivated to prove he is worthy of being a first round NFL draft pick. Opposite of Carter is David Bellamy. At 6-5, 240, Bellamy is huge too, and as equally adept of a pass rusher as Carter.
Inside, the Bulldogs have a plethora of options. Roquan Smith returns as the the team's leading tackler in 2016, and is joined by Natrez Patrick who was second on the team in tackles made. Behind Smith and Patrick is senior Reggie Carter. Carter has yet to live up to his potential, but a solid defender nonetheless. He provides depth at the position.
And then you look at who they recruited – Walter Grant, Jaden Hunter, Nate McBride, and Monty Rice – all of whom were top 500 prospects in the 2017 recruiting cycle.
Defensive Back: They are just as good as the front seven. And again, the Bulldogs are going to couple veteran leaders with highly talented freshman to make this one of the country's best defensive backfields. Yes, Georgia lost Maurice Smith, the man who beat Auburn with a pick six that will live on in Bulldog lore, but there are so many returning contributors that Smith's presence won't be sorely missed.
It starts and ends with Dominick Sanders. Sanders has been one of the SEC's best safeties for years now, and he should not disappoint his senior year. Fellow senior Aaron Davis should also contribute at safety, and true freshman Richard LeCounte III (another five star signee) should help provide depth.
At corner, the Bulldogs return Deandre Baker, Malkom Parrish, and Tyrique McGhee. Baker should build off a positive sophomore campaign, Parrish returns as a senior who should benefit in his second year starting, and McGhee should play a larger role this season after being a key special teams contributor. Also look for freshman DeAngelo Gibbs (6-1, 210) to contribute. Gibbs, you guessed it, was also a five star signee for the Bulldogs this past spring.
Final Thoughts and Prediction
Biggest Weakness: Lack of a passing game and poor play by the offensive line are tied for first. If both don't dramatically improve this season, the Bulldogs could be watching their arch-rival, the Florida Gators, in Atlanta for a third straight season.
Biggest Strength: It feels insane not to say the running back position, but to me it's not. Georgia has had great running backs for years, yet it has not won them big time games. This defense is finally good enough to win an SEC Title. A lot of the starters are upperclassman, and the underclassman behind them are equally as good. If Georgia is to finally become a relevant program again – and kill the narrative that they are annually the most over-hyped team in the country – then this defense will have to rise to the occasion and be the elite defense they are capable of being.
Biggest Game: Florida, October 28. Since 1990, Georgia is 6-21 against the Gators. No, that is not a typo. Most rivalries have one team that traditionally kind of beats up the other team.However, it is never this bad. South Carolina is 10-17 against Clemson since 1990. Auburn is 12-15 against Alabama since 1990. Ole Miss is 11-16 against LSU since 1990. Georgia is freaking 6-21. This year's matchup is a huge game for a multitude of reasons.
Prediction: App State (ask Tennessee and Michigan) is always a tough team to start a season against. This will be a great test for the Bulldogs heading into a road trip to South Bend in week two when Notre Dame welcomes Georgia in what is being labeled as the toughest ticket to buy in college football. I think the Dawgs lose a tough, close game. They then will beat Samford and Mississippi State before back-to-back weekends in the state of Tennessee. Both will be hard earned wins for the Bulldogs. Then they will beat Missouri before heading into a crucial bye week, because after that bye week, the Bulldogs will travel to Jacksonville for "The World's Largest Outdoor Cocktail Party." This is a must win if Georgia is to win the East. I think behind this defense, the Bulldogs win a classic over the Gators.
In the SEC there is no resting on your laurels, as Georgia must comeback a week later, and beat a salty South Carolina Gamecock team. The first loss in the SEC will come on November 11 as Georgia will travel to Auburn. The Dawgs will then bounce back against a surging Kentucky team. Georgia will then slug out a victory over a talented Georgia Tech team in Bobby Dodd. They also has the benefit of having a stud at kicker in David Marvin. Marvin is the type of kicker that can nail a 50 yard field goal when the game is on the line. That's huge. Georgia returns to Atlanta for the first time since 2012.
Final Record: 10-2 (7-1 in the SEC) 
(Featured Image from Dawg Nation)