2017 Season Preview: Clemson Tigers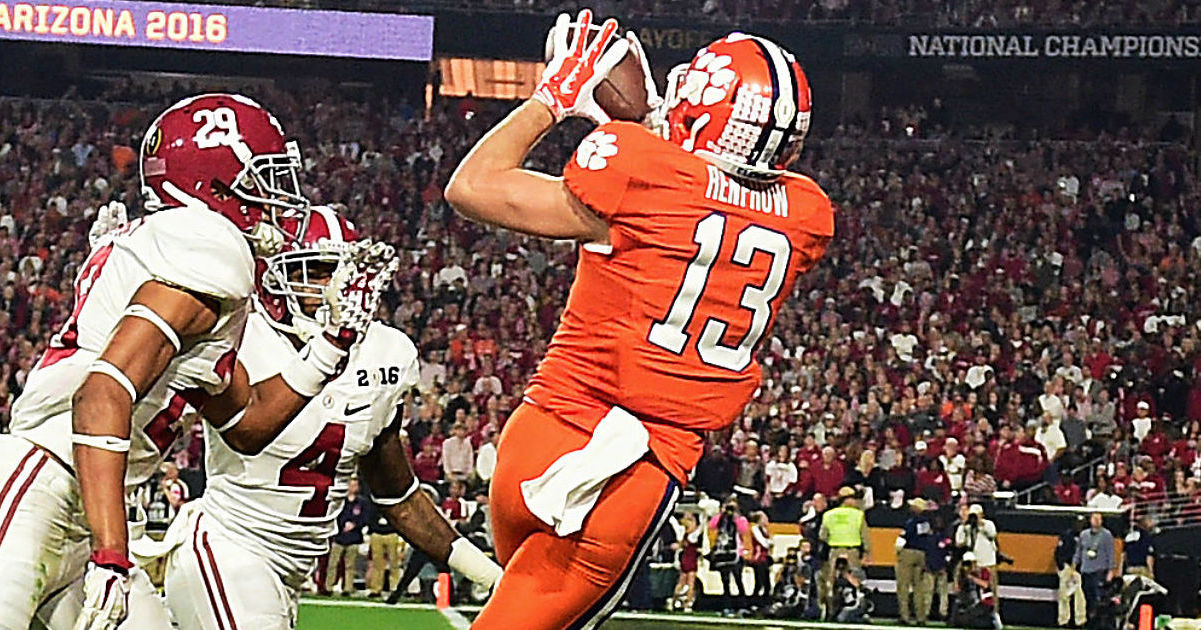 by Chris Paschal
It doesn't get much better for college football fans. Especially for fans as rabid and long suffering as Clemson fans. Clemson won their lone national title in 1981. Since then, Clemson greats like Brian Dawkins, Chester McGlockton, CJ Spiller, and Sammy Watkins gave their all for the Tigers, only to come up a few wins short of another national title. Embarrassing losses, head-scratching upsets, and disappointing seasons plagued Clemson, which prevented the Tigers from establishing themselves as one of the premier programs in college football. However, they never lacked talent. Every year, the Tigers hauled in one of the highest ranked recruiting classes in the country, only to then "pull a Clemson", and lose in epic proportions to Florida State, Georgia, and South Carolina. Or get upset by Georgia Tech, NC State, or some other inferior opponent.
But that all seemed to change a few years back when head coach Dabo Swinney took the reins of the upsurging Clemson program. Sure he had some bumps along the way, but he kept the Tigers pointed in the right direction. He not only kept them in the right direction, but he built them into a winner. Then, last year, 35 years after Clemson won their first National Title, the Tigers beat Alabama on the final play of the game. Clemson was back. With Swinney just signing an 8-year, $54 million contract Clemson's future is truly bright. Now in 2017, the Tigers are poised to challenge for not only another ACC Title, but another National Title, as well.
Offense
Quarterback: What does life post-Deshaun Watson look like? Watson was the greatest quarterback in program history (maybe even the greatest player in program history), and now he test his skills in the NFL. While the next quarterback will definitely not produce like Watson did, (how could you even expect that), the Tigers have still recruited well for the position. It has been a two man quarterback competition this August to see who will replace Watson. One contender will be junior Kelly Bryant who only attempted nine passes last season. Bryant was a solid prospect coming out of the 2015 recruiting class and his mobility could be utilized in the Clemson rush attack.
My favorite, however, would be freshman Hunter Johnson. He was a highly recruited, top prospect, has the athleticism and arm strength needed to produce at a high level for this offense. The decision will come down to a simple question – does Clemson care more about experience within the system and go with the junior, or do they go with the freshman and risk possible mistakes in the name of dynamic, playmaking ability?
Running Back: The Tigers had to say goodbye to NFL-bound Wayne Gallman at the end of last season, but that goodbye wasn't too hard to swallow when the Tigers return not one, but two solid running backs. The first is CJ Fuller. Fuller was a lightly recruited, three star prospect in the 2014 recruiting class, yet he enters his redshirt junior season as a sturdy (5-9, 215) option at running back. He seems poised to have a solid season as a dependable option in the running game.
The second running back that will feature a lot of carries is Tavien Feaster. Feaster is the polar opposite of Fuller. Feaster was a big-time, five star recruit in the 2016 recruiting class. According to the Clemson website, Feaster "earned (the) Future Impact Player award… at the season-ending banquet." Feaster (5-11, 210) has big play talent, and he should allow for the Tigers to get creative not only in the zone run offense, but also in the passing game.
Wide Receiver/Tight End:  Mike Williams and Artavis Scott are gone from last year's roster, but I have shocking news for you. Dabo Swinney recruited really well and the Tigers have a ton of options in the passing game. The primary target in this year's passing attack will be Deon Cain. Cain was a five star recruit in 2015, and has produced while fighting for snaps. Last season he had over 700 receiving yards, and caught 9 touchdowns. Now that he is "the guy," look for Cain to have a big season. Someone that came onto the scene last season in a quiet, but productive way was Ray-Ray McCloud. He, too, was a big time prospect and now that he will be starting a ton of snaps, look for McCloud to go from a dependable receiver, to a favorite target.
And then of course, the Tigers still have the man, the myth, the Bama-slayer, Hunter Renfrow on the roster. Renfrow is a legitimate option in the pass offense. As a former walk-on, he doesn't get the love or respect he deserves during the season. Yet, once he wins the National Title every one (excluding Clemson fans) acts like he just came out of nowhere. Renfrow may not the biggest or most athletic, but he does two things extremely well: he catches the ball and gets open. That's really all Clemson needs him to do.
Freshman Tee Higgins may not see a lot of playing time this year, but he will be a great option at wide receiver in the coming years. At tight end, Clemson will need to replace Jordan Leggit. Tight end by committee may be the solution the Tigers end up going with.
Offensive Line: One of the best in the country. Clemson returns two All-ACC lineman in Mitch Hyatt and Tyrone Crowder. The Tigers will only have to replace one starter from last year's National Championship winning offensive line. This group will be experienced, talented, and deep. The position to watch this season will be center. It looks to be a two-way competition between Justin Falcinelli and Gage Cervenka. Cervenka was somewhat of a project for the Tigers when he came to Clemson. Pegged as a defensive linemen by recruiting services, the Tigers moved him to the offensive side of the ball where he gained some experience last year on the offensive line. At 6-3, 310, he could be and additional piece to an already solid offensive line.
Defense
Defensive line: Remember how I said the offensive line was one of the best in the country? Yeah, so is the defense. How is that possible when they have lost so much talent, you ask? Oh yeah… that's right… they are really good at recruiting. Yes they lost Shaq Lawson a couple years ago, along with Carlos Watkins, Kevin Dodd, and so many others. But they still have this guy called Christian Wilkins, and this other guy called Dexter Lawrence. Both are preseason first team All-Americans. They are also both massive. Wilkins is 310 pounds while Lawrence is 340 pounds. Defensive end and standout Clelin Ferrel (6-5, 270) is big and athletic too. Albert Huggins is a name to remember. A big time prospect out of Orangeburg, SC a few years ago, got limited action in his first two seasons. However, in his third year of playing college football, he could have a solid campaign.
Linebacker: Not one of the best position groups in the country, but a solid unit altogether. Kendall Joseph recorded 125 tackles last year, and should have a big year after moving to middle linebacker. Losing Ben Boulware hurts, but Clemson should have some solid options at the Will and Sam linebacker positions to compete in the ACC. Keep an eye on Dorian O'Daniel. He is quick and athletic and could play a major role in both run and pass defense.
Defensive Backs: This unit is sneaky good. The Tigers could find a way to be a top 15 pass defense this season. The cornerback position will have both experience and talent this season. Four names to know senior Marcus Edmond, senior Ryan Carter, junior Mark Fields, and Tanner Muse (who could play corner, safety, and possibly nickel). All of these Tigers are talented options to plug in at corner. At safety, the Tigers have a tackling machine returning in Van Smith. Smith is a bit undersized at the position (5-11, 190), and was actually projected as a corner when he was being recruited, but Clemson has found his home at safety. He will lead what should be a great secondary.
Final Thoughts and Prediction
Biggest Weakness: It has to be the quarterback position. While they have recruited well at the position, the Tigers will still be breaking in a new quarterback who will have to try and find a way to follow Deshaun Watson.
Biggest Strength: It would be easy to say the defensive line, or the receiving corps, or the offensive line, or even the defensive secondary, but I am going to say the depth Clemson has at almost each and every position. It is a long season, and Clemson's depth should help them navigate through a schedule that has Auburn, Florida State, at Louisville, at Virginia Tech, Georgia Tech, at NC State, and at South Carolina on it.
Biggest Game: Louisville, September 16. Let's say worst case scenario, the Auburn Tigers are the real deal, go into Death Valley week 2, and stun Clemson. Clemson now has to go into Louisville, and find a way to rebound on Lamar Jackson's home field. Clemson is a far superior football team compared to Louisville, and nothing would help regain the confidence of an inexperienced quarterback more than beating Louisville like they stole something. If Clemson loses, however, they could be setting themselves up for a disappointing 8 or 9 win season.
Final Record: Defense wins championships, and Clemson still has a great defense. Further, the Tigers should control the line of scrimmage (both offensively and defensively) in every game they play in. I think the Auburn and Louisville games are close, but Clemson starts the season 3-0, giving the Tigers confidence heading into the backend of the schedule. The only toss-up game for me will be the Florida State game, which Clemson gets at home. I lean towards Clemson on that one. I say they get upset once during the season only because they lost to Pitt last year en route to a National Title. There are three games the Tigers are most likely to lose. The first is at Virginia Tech (a talented linebacking corps and secondary, coupled with a raucous Lane Stadium could be tough for a newly broken in quarterback).Second could be home against Georgia Tech – Clemson always has trouble with Georgia Tech, and the Yellow Jackets should be pretty good this year. The third game will be at NC State; the Wolfpack has just as good of a defensive line as Clemson and could give Clemson all they could handle like they did last year. The Tigers make it back to the ACC Championship game.
Final Record: 11-1 (7-1 in the ACC)
(Featured Image from Sporting News)