2017 Season Preview: Auburn Tigers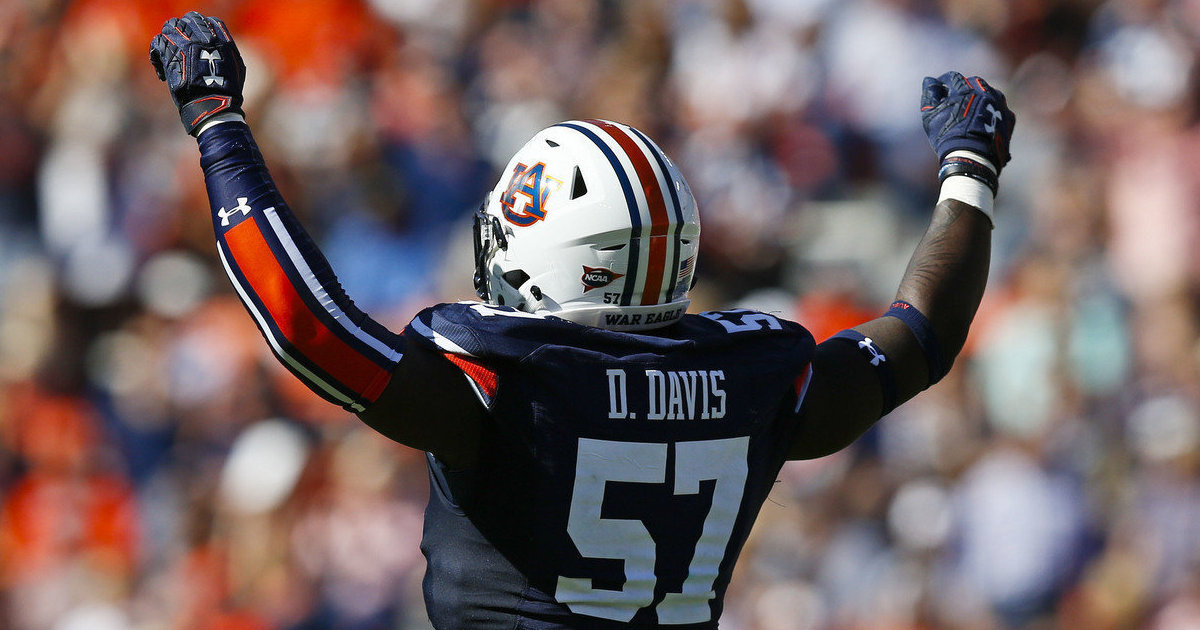 by Chris Paschal
From 2008 to 2013, Auburn's football program was  perpetually in a state of feast or famine. They were either making it to the National Title game (2010 and 2013), or having cataclysmically disappointing seasons (2008 and 2012). But in Auburn's previous three seasons, it seems as if the Tigers have found their niche as the program that recruits tremendously only to win 7 or 8 games. Auburn has become a fairly mediocre football program. As always, the Auburn season will be defined by how effective the quarterback play is. Like in 2015 and in 2016, Auburn seems to have found a savior at the position in Jarrett Stidham. However, this "savior" is relatively unknown and untested, just like 2015 and 2016. He comes from the Junior College ranks. While he does have a significant body of work at the position from his freshman campaign at Baylor, Stidham must prove that all the hype and all the fanfare can translate to winning in the SEC West.
Offense
Quarterback: People within the Auburn program and college football pundits throughout the country were trying to act like this was going to be a quarterback battle. It was not. Yes, Jarrett Stidham has not played a down of SEC football. Yes, Sean White has started games for Auburn in both 2015 and 2016. But while White may have the experience, he does not better this offense like Stidham could. White makes good decisions. He only threw three interceptions last season, and completed close to 65% of his passes. But if Auburn starts Sean White they are guaranteeing another 8 win season. White is not a threat in the run game whatsoever. Last season he averaged three yards a carry on 55 attempts. And it's not like White is a dynamic passer, either. Because of his size and injuries to his arm, White does not scare defenses in the slightest. White will never win you a football game. The best you can hope for is that he doesn't lose you a football game.
Stidham, on the other hand is bigger (6-2, 210), more athletic, and more of a threat in not only the run game, but in the passing game. If Auburn is to challenge Alabama, then they have to make their offense more balanced. Auburn was the best rushing attack in the SEC last season. However, they were also the worst passing offense in the SEC. If they can field even just an adequate passing attack, Auburn's offense – and Auburn in general – will be a significant challenger to Alabama.
Running Back: The SEC has some scary offensive backfields this season, but none are scarier than Auburn. Auburn's running back duo is right up there with Georgia and Alabama. Considering the amount of of times Auburn runs the ball, no duo is as productive as Auburn's.  It all starts with the workhorse Kamryn Pettaway (6-0, 235). Pettaway is big and powerful, but he is also elusive and agile enough to hit the hole with a speed and force that makes him an All-SEC type running back. Pettaway reminds me of NFL Hall-of-Famer, Jerome Bettis (also known as "The Bus"). Like Bettis, Pettaway can not only run you over, but he is also light enough on his feet to spin around defenders, fall forward when getting tackled, and to even rattle off a 60 yard gain.
Once Pettaway wears you down, then you have to worry about Kerryon Johnson (6-0, 210). Johnson rushed for almost 900 yards last season and he can fly. Johnson, who also doubles as Auburn's kick returner, is as versatile as they come. Johnson can return kicks, run the football, and also help in the passing game. Between Pettaway and Johnson, the Tigers have two solid options at running back. If they can both stay healthy, which was at times an issue last season, Auburn will lead the SEC in rushing, yet again.
Wide Receiver: The first thing you may notice is that there will be no discussion about the tight end position. That is because it is basically irrelevant in the Tigers' offensive attack. The wide receiver position however, is very relevant and talented. Auburn has massive targets throughout the position group in big time talents Darius Slayton (6-2, 195), Kyle Davis (6-2, 215), and Nate Craig-Myers (6-2, 210). All are extremely athletic. Craig-Myers, one of the nation's top 50 prospects in the 2016 recruiting class, has all the speed and talent needed to be a home run threat for the Tigers. Look for Craig-Myers to have a monster sophomore season, and to stretch the field with his matchup problems.
Auburn also has a few smaller, more agile options at wide receiver, as well, in returning contributors Eli Stove and Ryan Davis. Both had over 20 receptions last season, (which is a lot for Auburn), and both provide some experience along with adding depth to the position.  If Auburn has a quarterback that can make SEC worthy throws, the wide receiving corps is good enough to exploit defenses.
Offensive Line: This unit is one of the best in the country. Up there with Clemson, Alabama, Notre Dame, Ohio State, Oklahoma, Kentucky, and LSU. The reason I am so confident in this unit is because they are not only talented, but they are experienced where it matters. The Tigers have seniors at both tackle spots and at center. It all starts with Braden Smith. Smith (6-6, 305) is a mauler when it comes to run blocking. As a guard last year, Smith was a key contributor to Auburn's success at the inside zone run game. At tackle, Smith should be able to do some of the same things. He will also be able to show off his athleticism on outside zone plays, in his ability to climb to the second level, and in his ability to pass block.
Auburn also benefits from an influx of talent the last few years transferring in. At left tackle, Darius James transferred in from Texas in 2015, and last year was able to start most of the season for the Tigers. At guard, Florida State graduate transfer Wilson Bell further deepens the Auburn guard rotation.
Then there is true freshman, Calvin Ashley. Ashley was one of the top offensive tackle prospects in the nation in the 2017 recruiting cycle. With his size (6-6, 315), Auburn has yet another option at the tackle position. With seniors throughout the position group, and talented options at each position, Auburn should have yet another fantastic offensive line this season.
Defense
Defensive Line: This should be a unit that can hold its own despite losing Montravius Adams and Carl Lawson to the NFL draft. Auburn has recruited well, however, and should have the pieces to field a competitive unit. Two names to remeber. First, Derrick Brown. Brown (6-5, 317) was a big time recruit in the 2016 recruting cycle. He was the top prospect out of the state of Georgia, and if Auburn is going to succeed they will need him to step up and play well. If Brown has a big season at the tackle position, then Auburn will take a huge step forward in providing depth along the interior of the defensive line.
Another highly recruited player that must perform is junior Byron Cowart. Cowart is athletic enough to play defensive end, but big enough (6-3, 280) to play defensive tackle. If Auburn is to have a deep unit, both Cowart and Brown must be viable options at both defensive tackle and defensive end. Junior Dontavius Russell will be asked to be the gap eating, double team demanding one and three technique that leads this run defense.
Auburn has plenty of talented pass rushers. Sophomore Marlon Davidson should be able to man the strong side defensive end position.  Senior Paul James III and junior Jeff Holland should both be able to play the weak side defensive end position. Both James and Holland can play standing up or in a three point stance. True freshman Markaviest Bryant is going to be a great pass rusher, as well.
Linebacker: Linebacker is going to be another solid position group for the Tigers. Senior Tre' Williams was second on the team in tackles made last season. Now that he has a full year of gameday experience under his belt, Williams should be one of the better linebackers in the SEC. Deshaun Davis should man the strong side linebacker position, and the Tigers have a few options at the Weak Side position. If the defensive line does their part in occupying offensive linemen, Williams and Davis should be good enough for Auburn coaches to sleep easy at night.
Defensive Back: The Tigers lost some depth with the transfer of Marlon Character, but Auburn still has the starting talent needed to compete and defend against any passing attack in the conference. It all starts with senior safety Tray Matthews. Matthews led the team in tackles last season, and he is the leader of the defense. At corner, Auburn has a lockdown defender in Carlton Davis returning, and sophomore Javaris Davis should come into his own at the other corner spot after a decent freshman year. If Auburn can keep their secondary healthy, they should be fine. However, with a lack of depth and some questions of who will play nickel for them, the Tigers pass defense could deteriorate as the season goes on.
Final Thoughts and Prediction:
Biggest Strength: The rushing attack. With the options they have at running back, the depth, size, and talent they have on the offensive line, and the extra running threat in Jarrett Stidham, the Tigers should have one of the nation's most potent rushing offenses.
Biggest Weakness: Lack of defensive depth. There are a lot of players that are going to be asked to step up on the defensive side of the ball. I feel confident that the defensive line won't skip a beat, but with the transfer of Marlon Character in the secondary, Auburn is an injury or two away from being in a tough bind.
Biggest Game: Georgia, November 11. I think Auburn has to win this game to have a shot at a New Year's Six Bowl. Further, the Dawgs have this rivalry in the recent past. Auburn has only won four times in their last 15 matchups with Georgia. This will be a big game in deciding the SEC Title race with both teams hoping to challenge Bama.
Final Record: Auburn starts off the season 2-1. They beat Georgia Southern and Mercer, but lose at Clemson. Auburn then rattles off three straight wins over SEC opponents (Missouri, Mississippi State, and Ole Miss). They try to continue their momentum heading to Tiger Stadium to face an equally talented LSU team. Auburn hasn't won in Baton Rouge since 1999, and that draught doesn't end this year. Auburn then has to quickly rebound, and travel to Arkansas. I think Arkansas' defense has no shot at stopping Auburn. Auburn then gets a bye week before traveling to College Station. I fully expect A&M to be in their annual death spiral at this point in the season. Auburn wins. Georgia at home the following week. It's a coin toss for me, but I think being at home, and knowing how important this game means for their season, Auburn finds a way to win. They beat UL-Monroe heading into the Iron Bowl where Alabama flex's its muscle, yet again, winning this game in the fourth quarter.
Final Record: 9-3 (6-2 in the SEC). 
(Featured Image from Al.com)