2017 Season Preview: Arkansas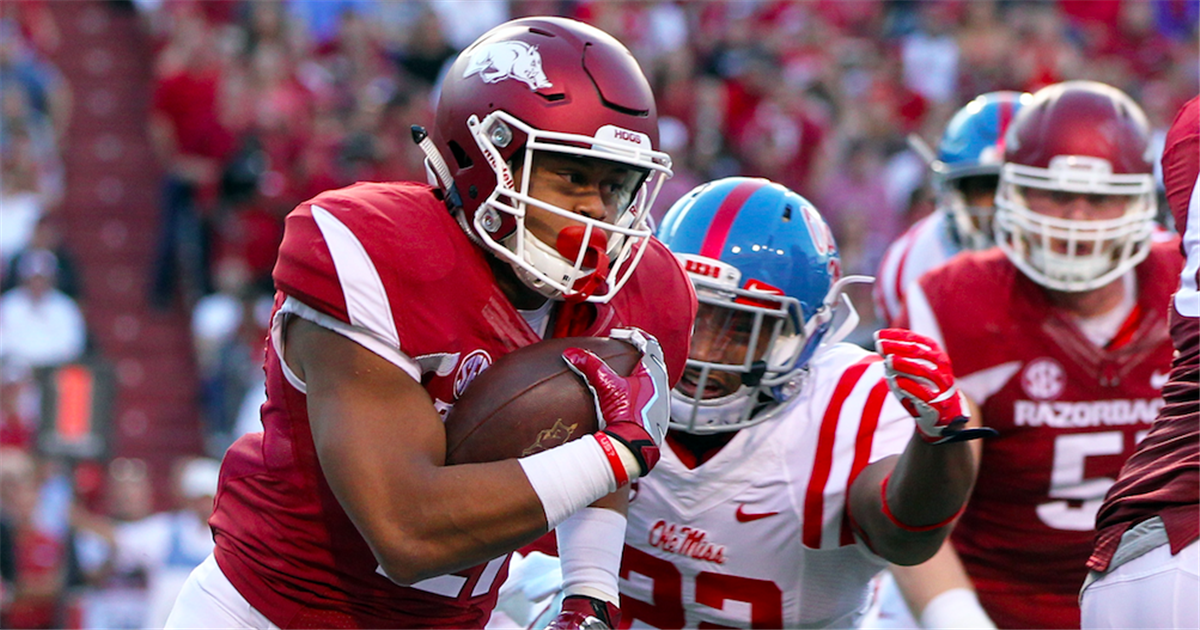 by Chris Paschal
Arkansas' program is in a weird spot. It is definitely in a better place than it was in 2012 and 2013 where the Hogs won a combined seven games. But the Arkansas faithful expect the Hogs to be contenders, and being better than horrible isn't going to cut it. From 2014 – 2016, the Razorbacks have been the definition of mediocre, winning seven games twice and eight games once in 2015. Seven and eight wins are fine during the rebuilding process, but now there is growing pressure and expectations for the Razorbacks to take the next step in the program's maturation. However, if Arkansas fans are expecting that elusive nine win season to be this year, it ain't happening. In fact, I hate to apply salt to the wound, but their best chance of winning nine games was last year.
You can't blow huge leads against Missouri (Missouri, for cryin' out loud) and Virginia Tech at the end of the season, then lose Dan Skipper, Keon Hatcher, Jeremiah Ledbetter, Jeremy Sprinkle, Brooks Ellis, Drew Morgan and Rawleigh Williams and expect to have a better shot at nine wins in 2017. On top of all of that, the Razorbacks have a new defensive coordinator and a new defensive scheme in 2017. This could be an interesting season for the Razorbacks. Is the hot seat getting hotter for Bret Bielema?
Offense
Quarterback: If Arkansas is able to take that next step in becoming a contender in the SEC, it is going to be because of Austin Allen. There is no denying  that the Razorbacks have a great quarterback. Allen is returning for his senior season, and like his brother Brandon Allen did in 2015, Austin Allen should have his best season yet.  If Allen is able to cut back on some of the bad decisions he made last season, especially against better competition, while keeping his gun slinger mentality, Allen should have the numbers needed to break school records.
Of course, a lot of this also depends on how well this relatively inexperienced receiving corps performs, as well.
Behind Allen, the Hogs have a few unknown and untested options in Ty Storey, Cole Kelley, and Daulton Hyatt.
Running Back: Huge loss for Arkansas when Rawleigh Williams announced his retirement from football after suffering numerous injuries. It breaks your heart to think about all the hard work this young man put into himself, his football team, and his teammates only to have it dashed by injuries. From the sounds of things, however, it sounds as if Williams's ferocious work ethic and humble demeanor has already found its way into his life off the field, landing him a summer job within the Dallas Cowboy's organization.
Without Williams, it seemed the Hogs were in a bit of a bind. They already had statistically one of the SEC's worst rushing offenses (absolutely shocking, I know), and now they had lost their featured back who rushed for just shy of 1,400 yards.
But then came the news that David Williams, a graduate transfer from the University of South Carolina, had decided to transfer to Arkansas for his last season of eligibility. While he never panned out for the Gamecocks, Williams was always considered one of the more talented players on South Carolina's roster. One of the top recruits in the nation in the 2013 recruiting cycle, Williams (6-1, 220) possesses the deadly combination of speed and strength. Many, including myself, think that a change of scenery, a new coaching staff, and a scheme that was built for him could result in big numbers. The Razorbacks also return 600 yard rusher, Devwah Whaley. Between Williams and Whaley, and a more deliberate use of the running game, Arkansas could weather the heartbreaking Rawleigh Williams storm successfully.
Wide Receiver/ Tight End: This is a bigger question mark than the running back position. Why? Because, there are some legitimate solutions to the running back question. But the answers to the wide receiver concerns are a little more unknown. Look at who Arkansas is losing: Keon Hatcher (44 receptions, 743 receiving yards), Drew Morgan (65 receptions, 739 receiving yards), Dominique Reed (16 receptions, 255 receiving yards), Rawleigh Williams (15 receptions, 220 receiving yards), and Jeremy Sprinkle (33 receptions, 380 receiving yards). As if that wasn't enough bad news, 
Arkansas lost TJ Hammonds (a big time prospect in 2016) for the month of August.
Over 70% of Allen's completions are gone. 173 of his 245 completions were to one of those five players.
Further

, 18 of his 25 touchdowns were thrown to one of those five players. The only big time contributor that is returning is the durable Jared Cornelius (5-11, 210). Cornelius will be joined by a bunch of unproven, unknown wide receivers. At tight end, Austin Cantrell could build on a freshman season in which he did haul in two touchdowns. Arkansas did sign some solid talent at the position the last few years, and the roster has been bolstered with some JUCO signees, but that talent has to be tested before we really know how good this pass offense will be.
Offensive Line: The Hogs will be fine up front. Although they lose monstrous Dan Skipper (6-10, 310) at tackle, the Hogs return enough talent and experience to be
pretty good

. The leader and anchor of this line is center Frank Ragnow. A legitimate Rimington Trophy (given to the best center) candidate, he should help this offensive line with not only his play, but is senior leadership. At right tackle is the big (6-6, 335) Brian Wallace. Wallace is the kind of mauler Arkansas loves up front, but he must perform well as a pass protector if the Hogs are to improve upon their pedestrian pass protection last season. There is a lot of depth within the position group, as well, with several position battles going on and seven upperclassman vying for playing time.
Defense
Defensive Line: This position group comes down to two questions. First, is big ole Bijhon Jackson (6-2, 335) finally going to live up to his potential, and man the nose guard position? If he does, which he hasn't yet, Arkansas will improve as a run defense. If he doesn't, and Arkansas can only depend on Austin Capps, then the Hogs will be gashed by ground game juggernauts Alabama, Auburn, LSU, and Texas A&M, yet again.
Second, does defensive end McTelvin Agim (6-3, 285) improve upon his Freshman All-SEC performance last year and become one of the best defensive lineman in the country? He has that kind of talent. He was a five star prospect in 2016 and he decided to stay home and play for the Razorbacks over offers from Texas, A&M, TCU, Baylor, Houston, Alabama, Auburn, Oklahoma, LSU, Notre Dame, and Clemson. Talk about a kid who decided to build something in his home state instead of leave for a more talented team. If Jackson and Agim, both Arkansas products, can develop into big time players, this Arkansas rush defense could quickly turn things around and surprise a lot of people.
Linebacker: This was already an underwhelming position group to begin with, but losing your leading tackler in Brooks Ellis doesn't help matters. Like wide receiver, there will be a lot of new faces playing a lot of football at this position group. Dre Greenlaw does return after an injury plagued sophomore campaign, and he does have the athleticism and size (225 lbs) needed to be an effective weak side linebacker. But for everyone else, it will be a lot of trial by fire.
Defensive Backs: Two players have to have big seasons for Arkansas to improve in both its run defense and its pass defense. First, safety Josh Liddell (6-1, 210) will have to
match or better his tackle total (63)

, which was second best on the defense last year, if the Razorbacks are to have a more stringent run defense. The second player is cornerback Ryan Pulley. Pulley had a pretty good season last year landing him on a few pre-season All-SEC teams and watch lists. If Pulley is able to be counted on as the type of corner that can shut down the opposing team's best wide receiver, then this pass defense will improve, as well. The good news for Arkansas fans is that this position group has a bunch of senior leadership coupled with some talented young guys.
Two freshman names to remember – safety Montaric Brown (another Arkansas kid who decided to stay home) and cornerback Chevin Calloway (a top prospect out of Dallas who was heavily recruited by Ole Miss, Texas, and Nebraska). Both are top 200 prospects and both are at a position of need in the secondary.
Final Thoughts and Prediction
Biggest Strength: The starting quarterback. Austin Allen is one of the best quarterbacks in a league that is starting to develop top quarterbacks. The Hogs' offense will go as far as he can take them. If he finds a way to win nine games,and beat an LSU, Auburn, or an A&M, or somehow upset Alabama, he will go down as a Razorback legend.
Biggest Weakness: Same as last year. The Hogs do not have the depth needed to win in the SEC West. Sure they have some good players, but this is not an SEC Championship caliber roster. Lack of depth in the defensive front seven will be the real killer.
Biggest Game: Texas A&M, September 23. C'mon, Arkansas. A&M is not that much better than you. Especially not this year, with the concerns the Aggies have at quarterback. The five year draught against the Aggies needs to stop if Arkansas has any shot at nine wins. Arkasnas does have a bye week before the A&M game, which could be huge in finally getting over the hump.
Prediction: 
Arkansas' first real test is in week 2 when TCU comes to Fayetteville. TCU does have a decent back seven which could be a real test for Austin Allen, but overall the Horned Frogs have an average roster. The game is at home, so I say the Hogs start out 2-0. The bye week before A&M could help Arkansas, and the loser of this game may have sealed their head coaches fate. I'm going with A&M because they have a more talented roster, and traditionally start the season off fast. After beating New Mexico State, Arkansas loses three in a row (at South Carolina, at Alabama, home against Auburn). Then comes the second most important game on the schedule behind the A&M game and that is the game in Oxford against Ole Miss. The Hogs need this to have a shot at being bowl eligible. I say they get the win and enter the final four games 4-4. They beat Coastal, lose at LSU, then benefit from being home against Mississippi State and Missouri, and finish the season with yet another mediocre record.
Does it cost Bielema his job? I don't think so. I think Arkansas is smart enough to realize that these past few years saw some insanely overachieving Mississippi State teams, the best era in Ole Miss football since Johnny Vaught, the Alabama juggernaut, some decent Auburn and LSU teams, and A&M teams that they always played when the Aggies were at their best. A&M, Mississippi State, and Ole Miss seem to be coming back to earth, and the jury is still out on Auburn and LSU.
Final Record: 7-5 (3-5 in the SEC). 
(Featured image from 247 Sports )