South Carolina: 2016 Preseason Preview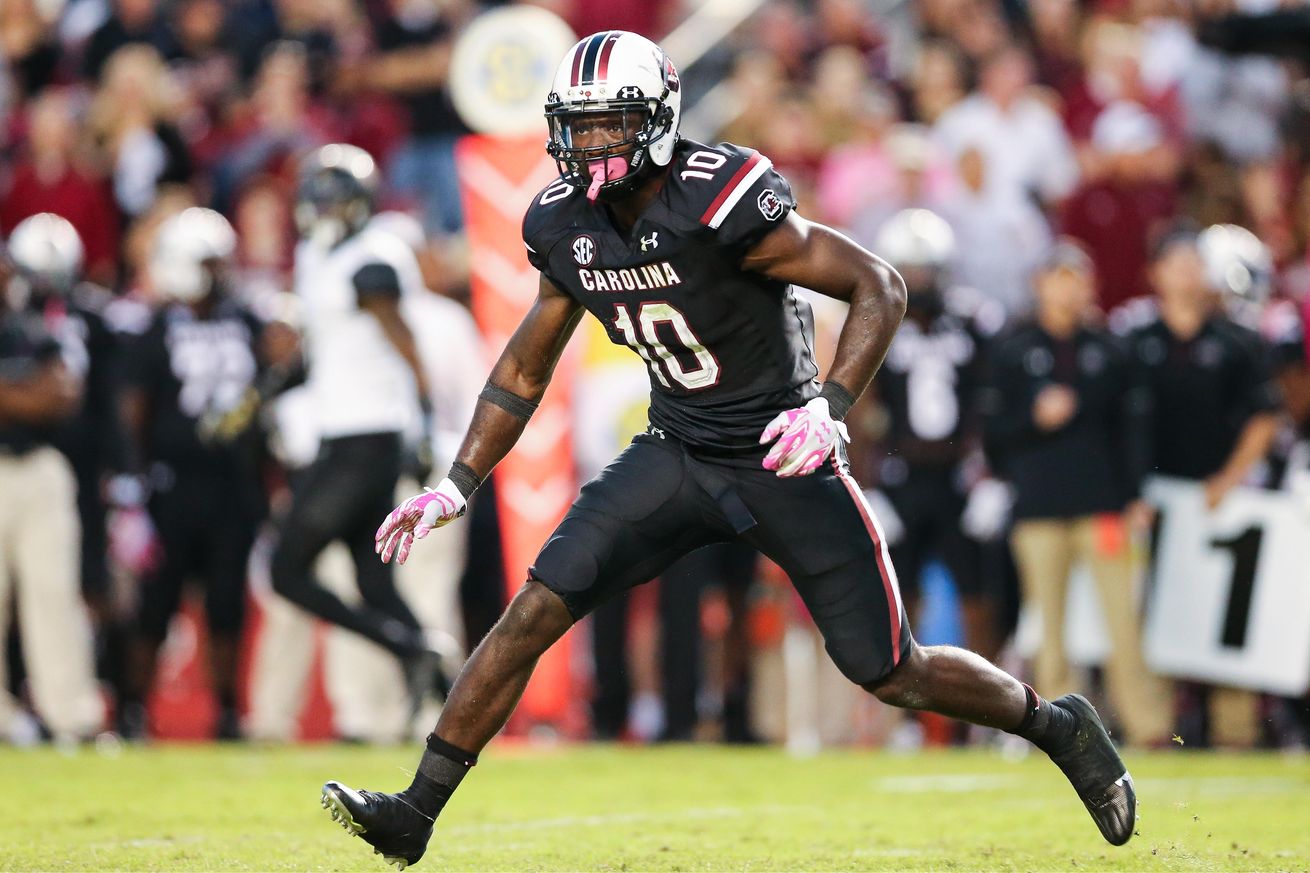 by Brendan Paschal
If I had a dollar for every time I heard a South Carolina fan say how excited they are for Will Muschamp to be their new coach,I would have dropped out of school by now. 
These fans are fired up, and for good reason. Muschamp is already starting to build decent recruiting classes, and he has more talent on this roster than most people give him credit for. I think most South Carolina fans have hope for the future, but the biggest question remaining is how this year plays out. Is this season going to be a throwaway pancake, or are they going to turn some heads?
South Carolina's Record: 6-6 (3-5)
Gamecock fans should be proud if they reach .500 this season, especially after going 3-9 last year. Will Muschamp seems to have learned from his mistakes at Florida and has solid co-offensive coordinators in Bryan McClendon and Kurt Roper. Even though most are counting the Game Chickens out this year, I believe South Carolina has a chance to make it to a bowl game. First of all, they play in the East. Missouri and Vanderbilt have garbage offenses, and Kentucky has the worst defense in the SEC. Then they pull a rebuilding Mississippi State from the West, along with a home visit from Texas A&M. Second, although South Carolina stunk last year (boy, did they), most of their losses (aside from Georgia and LSU) were close: Kentucky by 4, Missouri by a couple touchdowns, A&M by 7, Tennessee by 3, Florida by 10, The Citadel by 1 (that one hurts to write), and eventual ACC Champion Clemson Tigers by 5.  So six wins this season is not out of the question. 
South Carolina's Biggest Strengths:
1. Coaching Staff: Will Muschamp has brought in new blood on both the offense and defensive sides of the ball. Travaris Robinson (right) has followed Muschamp wherever he's been: from Auburn to Florida, back to Auburn, and now to South Carolina. However, this is the first time Robinson has been defensive coordinator under Muschamp. While he is a young coach, he already has a reputation for being a superior recruiter. At Florida, Robinson was responsible for the Gator's secondary, which earned the nickname Defensive Backs University. It's okay if Robinson can't handle the entire defense his first couple of years, because he has a legend as his boss. In fact, that might be how Muschamp prefers it.  I'm not saying Muschamp is going to micromanage the defense, but they need so much help on the defensive side of the ball that one man could not accomplish an overhaul alone. With Robinson and Muschamp working together, look for immediate improvement on defense, even if that means a mediocre year statistically.  
Co-offensive coordinators Bryan McClendon and Kurt Roper are a duo that only Muschamp could bring together. Both McClendon and Roper are more than qualified to lead this offense, with coaching experience in the SEC and the NFL. Muschamp might have actually learned from his mistakes at Florida and thus be attempting to eliminate his offensive issues as quickly as possible. Roper is a passing game mastermind and known for developing quarterbacks, while McClendon is a young, energetic wide receiver coach who is coming to South Carolina from SEC East rival, Georgia. Muschamp's smartest move, though, was retaining Shaun Elliott as the offensive line coach. With so much change in the coaching staff, Elliott will be able to help the make the transition much smoother for this already fragile football team. 
2. Running Backs: How can this be with Brandon Wilds gone? A.J. Turner. That's how. Turner is a redshirt freshman that nobody is talking about, but he could be the next great South Carolina running back. Like Marcus Lattimore-great.
That's right, I said it. You can laugh all you want, but just you wait. This guy was behind junior David Williams in the spring but is now taking first team reps. Turner is known for his speed and elusiveness, which is going to be needed with their inexperienced offensive line. He is not built like Lattimore and definitely has a different style of play, but coaches rave about Turner's athleticism, pass-catching ability, and willingness to run hard and powerful.
David Williams is also a solid option. While I am very excited about Turner, I think Williams will step up to the challenge and compete for playing time as the veteran in this young, but talented position group. 
Biggest Concerns
1. Front Seven: This concern grew from the defensive line to the front seven once Skai Moore was lost for the season. Loosing Moore is a huge blow to this defense, and now Muschamp has to replace his best player. South Carolina was dead last in the SEC in defensive scoring, rushing yards, and total yards. With the Gamecocks' defense changing to fit Muschamp's scheme better, senior T.J. Holloman is going to have to step up big time at inside linebacker.
Senior Marquavius Lewis (right) seems to be the only one that could make an impact on the defensive line, even though he had a disappointing season last year. Their biggest concern is the pass rush. Darrius English and Boosie Whitlow will now have more opportunities to come off the edge in the Buck position to improve their productivity in opposing teams' backfields.   
2. Quarterback: The phrase "too many cooks in the kitchen" comes to mind when thinking about South Carolina's quarterback battle. Even with 4 options for starting quarterback, the Gamecocks might still have some issues here. Perry Orth and Brandon McIlwain are still the frontrunners for this position, but neither has distanced themselves from the pack. If the Gamecocks go into their season opener against Vanderbilt with a rotating quarterback scheme, their season could end before it starts. Seldom (ignoring the 2013 Gamecocks) does a rotating quarterback situation work out for a team, especially in the SEC. Muschamp might simply be ensuring that he has a backup plan with his quarterbacks after his fiasco in Florida. With Orth and McIlwain duking it out, Muschamp still has Lorenzo Nunez and early enrollee Jake Bentley as options. Although the likelihood of Bentley seeing the playing field is low, in my opinion, it is still nice to have that fourth quarterback… You know, just in case.
Biggest Losses
Pharoh Cooper – WR

Brandon Wilds – RB

Skai Moore – MLB 

Jerrel Adams – TE

Brandon Shell – OT
Impact Players
A.J. Turner – RB

Brandon McIlwain – QB

Marquavius Lewis – DE

Deebo Samuel/Bryan Edwards – WR

Sean Kelly – P, South Carolina needs all the help they can get in the field position battle. 
Biggest Game of the Year: At Kentucky 
This is the Gamecocks' fourth game of the season, and they could easily be 2-1. This game might be their last win before going against Texas A&M and Georgia. South Carolina needs to come out with a win against Kentucky to give them the spark they need to go against their toughest opponents in the SEC. Also, this game is extremely winnable for South Carolina – Kentucky's defense is atrocious and their offense is good, but not great. With Muschamp being the defensive guru that we all know and love, this game could come down to the Gamecock's offensive production. A win here and South Carolina has a shot to make it to a bowl. A loss, and South Carolina has to steal a win against a better opponent. 
(http://www.garnetandblackattack.com/south-carolina-gamecocks-football/2016/4/9/11393476/south-carolina-gamecocks-football-spring-game-how-to-watch-live-game-thread)
(http://www.garnetandblackattack.com/south-carolina-gamecocks-football/2016/4/9/11393476/south-carolina-gamecocks-football-spring-game-how-to-watch-live-game-thread)