Kentucky: 2016 Preseason Preview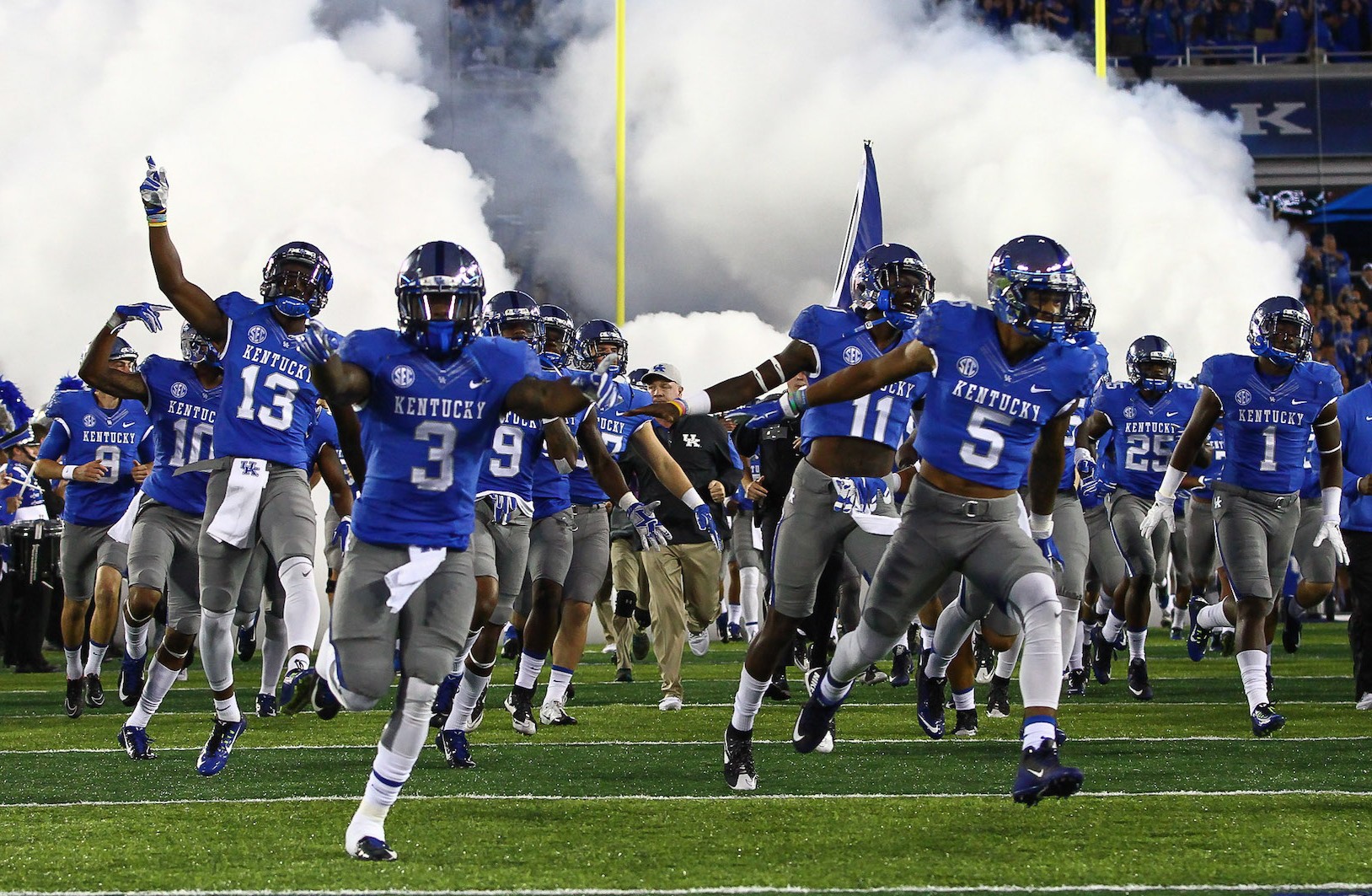 by Brendan Paschal 
Football is finally starting to become relevant for Kentucky fans. The Wildcats won some games that they were not supposed to win last year, yet they also lost games they should have won (Auburn and Vanderbilt in particular).
In order for Kentucky to make it to a bowl game this year the Cats have to bounce back from the beating they will receive in Tuscaloosa and defeat Vanderbilt and Mississippi State back to back. It is still a while away until the Wildcats are feared in the SEC as they are in other sports [Insert basketball joke here], but if they are to become bowl eligible, the Wildcats will have to win the games they are supposed to, especially home games against lower tier programs.
Kentucky's Record: 5-7 (2-6) 
Kentucky was one game shy from reaching .500 last year, and failed to reach a bowl game. All head coach Mark Stoops' wanted for his boys is to make it to a bowl game, yet they failed in their mission. Although Stoops has taken tremendous strides from his 2-10 seasons at Kentucky he still has a long way to go, especially on defense. I am not as confident in the Cats as some other are because while the Wildcats have a good offense it is not good enough to overcome this pitiful defense. 
Kentucky's Biggest Strengths
1. Offensive Line: Almost the entire starting offensive line returns from last season. Only LT Jordan Swindle is gone. Swindle was a three year starter, and should be tough to replace. The rest of the gang is back and are led by center Jon Toth who has started in 35 games while at Kentucky. 
2. Running Backs: Stanley "Boom" Williams rushed for 855 yards in 121 rushing attempts with 6 touchdowns. While Boom keeps fans entertained on the field, his father (right) keeps it lively off the field. Jojo Kemp also posted 555 yards and 6 touchdowns as a backup. These guys hit the hole hard and have break away speed. Behind these guys are Mikel Horton and Sihiem King who are battling for reps, and are solid alternatives. 
3. Secondary: What Kentucky's secondary lacks in experience  they make up for talent. Sophomores Chris Westry, Derrick Baity, and Mike Edwards, are looking to make their mark in Kentucky history, and will have senior leadership in Marcus McWilson and Blake McClain. 
Biggest Concerns:

1. Front Seven: With OLB Denzil Ware as the only returning starter this Kentucky defense could be in trouble. Matt Elam (right), who is 6'7″ 360 pounds, has yet to fulfill his role at nose guard, which probably has to do with the fact that he is not in shape to play against teams in the SEC. Inside linebacker Courtney Love is trying to make an impact after sitting out for his transfer year. While none of these guys are new to the program they are not battle tested, and could have trouble stopping experienced teams late in the game. And don't even get me started on their pass rush. This defense lost its top pass rusher from last year in Josh Forrest. He had 3.5 sacks. This is a horrendous front seven. 
2. Receiving Core: Even though everybody returns from last year, these receivers have a lot to improve on. Patrick Towles threw 14 interceptions last season, but it was not entirely on him. Sloppy route running, fatigue, and dropped passes lead to Kentucky's 5-7 season last year. The Cats are a poor man's Ole Miss/Texas A&M/Everyone Else when it comes to the up tempo, spread attack offense, and when you're playing teams with elite secondaries your receivers can't afford to make mistakes. If these receivers don't vastly improve, Kentucky is in for a long long season. 
Biggest Losses

 
Jordan Swindle – LT

C.J. Johnson – DT

Josh Forrest – LB

Patrick Towles – QB
Impact Players 
Boom Williams – RB

Drew Barker – QB

Chris Westry – CB

Jon Toth- C
Biggest Game of the Year:               South Carolina 
Kentucky is already chalked up to lose to other teams in the East, and can't afford to lose a game that they should win. If the Cat's lose in their fourth game of the season to the Gamecocks, everything could go down hill from there. This is the one game that Coach Stoops can't afford to lose. If Stoops loses more than once between Vanderbilt, Mississippi State, South Carolina, and Missouri, he will lose his job, unfortunately. 
(http://bigblueinsider.com/2015/09/kentucky-florida-football-photo-gallery/)
(Boom's Father Before a Home Game http://www.courier-journal.com/story/sports/college/kentucky/2015/09/05/boom-williams-dad-brings-hype--kentucky-football-game/71791968/)
(http://bigblueinsider.com/2015/09/kentucky-florida-football-photo-gallery/)