Georgia: 2016 Preseason Preview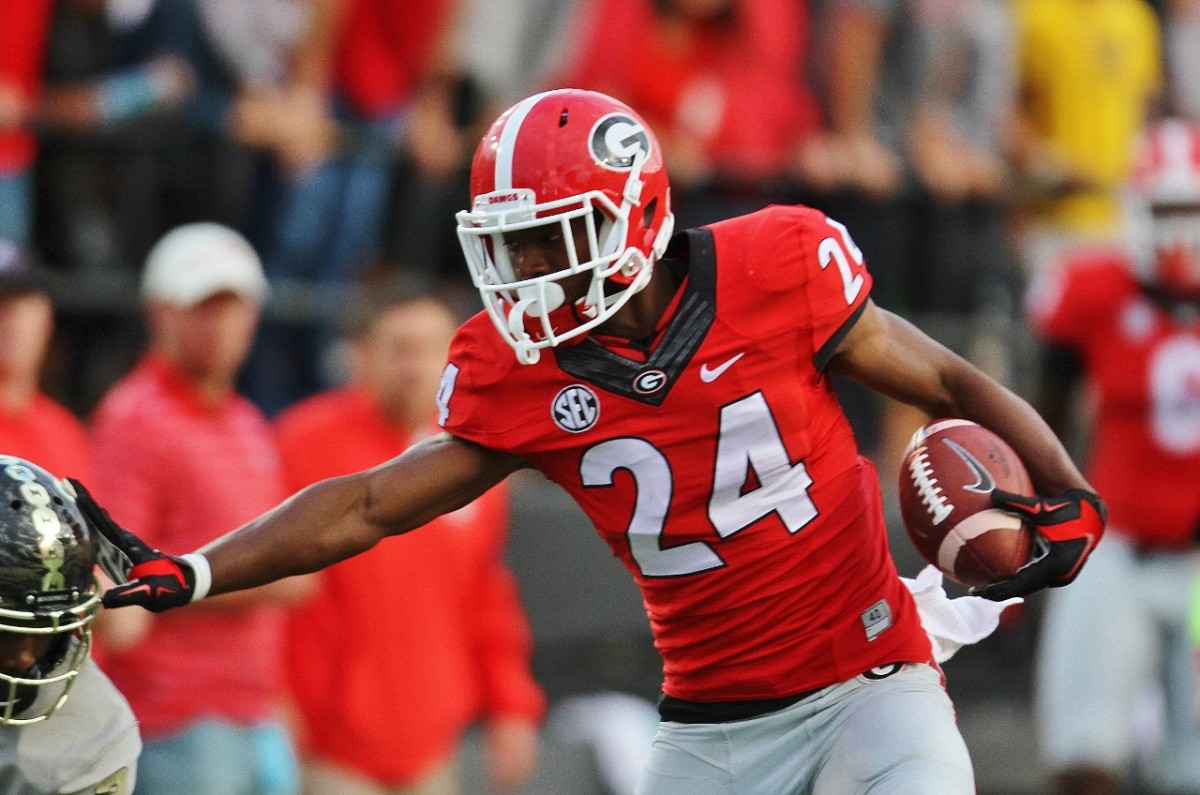 by Chris Paschal
The once proud Georgia Bulldogs have not won a SEC title in over a decade. Georgia has not won a national title since 1980.
Since 1990, Georgia and Florida have played 26 times. Georgia has won six. In the last six meetings against South Carolina, Georgia has won twice. Georgia has lost the last three games played against Alabama, including in the SEC Championship, and twice in routs in Sanford Stadium. Last year, Georgia lost to Tennessee after leading 24-3 with one minute left before halftime.
That is why there is a new head coach in Athens, Georgia. Kirby Smart has not coached a game as a head coach, but he has enough experience and knowledge to win big at Georgia after recruting with, learning from, and shadowing Nick Saban, who is the only coach that could make Georgia fans feel like their own program was a DII football team. Georgia annually has talent on their roster, a dedicated and loyal fanbase, a tradition-rich history, and a recruiting hotbed in all of college football in its own backyard. It is about time Georgia starts winning SEC Titles, and Kirby Smart is the man to do it. 
Georgia's Record: 9-3 (5-3) 
Georgia lost key pieces from last year's team, but I think Kirby Smart is the kick-in-the-pants Georgia needed. While Georgia is not as deep as it has been in years past –  and is certainly not on the same level as Alabama – Kirby Smart will be able to give them the bump needed to have an extremely successful season. Once recruiting picks up, Georgia will have the depth needed to compete for SEC titles.  But in year one, Georgia fans should be ecstatic with a strong showing in the SEC (five conference wins), a victory over rival Georgia Tech, and an impressive opening win against an offensive juggernaut in North Carolina. The biggest fear I have for this Bulldog team is the offensive line. I have have faith in the running backs, the quarterbacks, and the defensive line. I worry about the offensive line not being good enough or deep enough to win an SEC East Title. 
Georgia's Biggest Strengths: 
1. The Secondary: Georgia was statistically the best passing defense in 2016. Not just the best in the SEC, but the best in the country. They ranked first in all of college football in 2015 in allowed passing yards per game. Then again, look at who Georgia played last year. Just start with their final two regular season games: Georgia Southern and Georgia Tech. Both those teams throw the ball about as often as Mark Richt raises his voice. I don't bring this up to say Georgia isn't talented, I just doubt they will be the best passing defense in the country again in 2016. 
But what Georgia lacks in favorable scheduling, they make up for in coaching and experience. First of all, Kirby Smart is your head coach. Need I say more? Second, Mel Tucker, Georgia's new defensive coordinator, not only was a defensive coordinator for the Chicago Bears, but he also played defensive back in college. Those two together, along with returning starters at every position in the secondary (including first team All-SEC safety Dominick Sanders), and the arrival of 5-star recruit Mecole Hardman, should allow Georgia to have a better secondary than last year, even if the statistics don't bear that out. 
So never fear Georgia fans. While you may face better passing attacks this year, I think your pass defense will be improved from last season. 
2. The Receiving Corps: Yes, Georgia lost Malcolm Mitchell, who had a great career at receiver. But no, I don't think it matters. Georgia returns the man that broke Gamecocks Nation, sophomore Terry Godwin, who at one time was committed to South Carolina before signing with Georgia – he has already become a difference maker. He may be undersized, but he has great hands and breakaway speed, so look for Godwin to have a big year as the featured receiver.
Speaking of undersized, Georgia has one of the most electrifying players in the SEC in slot receiver Isaiah McKenzie. McKenzie, a mere 5'8″ speedster, is already a record-breaking return man and should be a dynamic option in the passing game. 
Then there are the tight ends. While Arkansas claims to have the best tight end tandem in the SEC, Georgia will have a lot to say about that. For starters, Georgia's new offensive coordinator Jim Chaney is the "Tight End Whisperer." He loves to feature the tight end in the passing game, and he has already used them effectively in the SEC during his stints at Tennessee and Arkansas. At Georgia, he is calling upon this year's group of tight ends to make huge strides in the passing game. It all starts with Jeb Blazevich, who is the seasoned vet at the position. Blazevich is big, strong, and athletic. Then there is the newcomer, 5-star recruit Isaac Nauta. Those two, combined with Jackson Harris and Jordan Davis, have this position poised to have a big year in the passing game. 
Biggest Weaknesses: 
1. Linebacker: The Bulldogs lost three linebackers from last year's team to the NFL. First, Georgia lost Jake Ganus, the leading tackler on the 2015 defense. Then they lost Jordan Jenkins, who was big and physical at 260 pounds (he was taken by the Jets in the third round). Then, to top it off, Georgia lost junior Leonard Floyd early to the NFL Draft. Floyd was long at 6'5″ and fast, running a 4.6 40 yard dash in the NFL Combine. He was one of the best defenders in the SEC last year and led the team in sacks. 
How does Georgia fill all those holes? First, Georgia was fortunate in that they had maintained a high enough level of recruiting in past years to withstand the mass exodus they experienced this offseason – reserves Reggie Carter, Natrez Patrick, Lorenzo Carter, and Tim Kimbrough all performed well last season when given the opportunity. Second, they have to get live, game day reps at linebacker. That's something Georgia cannot provide these inexperienced linebackers until Week One in the Georgia Dome, against an explosive Tarheel offense. If the next generation of athletic Georgia linebackers learn quickly, this Bulldog defense will be stout. Look for outside linebacker David Bellamy to have a great year. He is 6'5″, 241 pounds and has a chance to have a monster season now that he is not fighting for playing time. 
2. Quarterback: Unless Grayson Lambert improved drastically over the offseason, I am picking Jacob Eason to start the season. Lambert did not perform poorly last season; unfortunately, he simply is not that good. That may sound harsh for a quarterback who set an NCAA record last season (when he went 24-for-25 against South Carolina), and who threw only two interceptions.  But he also threw for less than 2,000 yards and a mere 12 touchdowns. The other option is not that better. Brice Ramsey has a strong arm and threw for two touchdowns last year, but sadly for him, one was an pick-six against Alabama.  According to those close to the program, Lambert has the respect of the team and command of the offense, but if I'm Kirby Smart, I am playing the nation's top quarterback in the 2016 recruiting class. 
Key Losses: 
Jake Ganus – LB

John Theus – OT

Malcolm Mitchell – WR

Leonard Floyd – LB

Mark Richt – Love him or hate him, Richt was the head coach for 15 years. That is a long time in the SEC. 
Key Bulldogs: 
Dominick Sanders – S

Terry Godwin – WR

Trent Thompson – DT

Nick Chubb/Sony Michel – RB

David Bellamy/Lorenzo Carter – LB
Biggest Game of the Year: North Carolina (Chick-fil-A Kickoff Game)
This game matters a lot. It matters because it is Kirby Smart's first game, it should be Sony Michel's and Nick Chubb's first game back from serious injuries, it could be Jacob Eason's first career start, it will challenge the offensive and defensive line, and it features a Chapel Hill offense that will test Georgia's defense. This game will be intense, and don't let the venue fool you. While the game will be held in the Georgia Dome in Atlanta, Tarheel fans will travel for this matchup. Both programs have huge expectations for their respective programs, and the anticipation for this game will be incredible. If Georgia finds a way to win this game, then Bulldog Nation will rest easy knowing that no matter what conference play holds for them, they have found a winner in Kirby Smart. 
(http://www.bulldawgillustrated.com/ugas-dominick-sanders-learn-from-our-mistakes/)