Clemson: 2016 Preseason Preview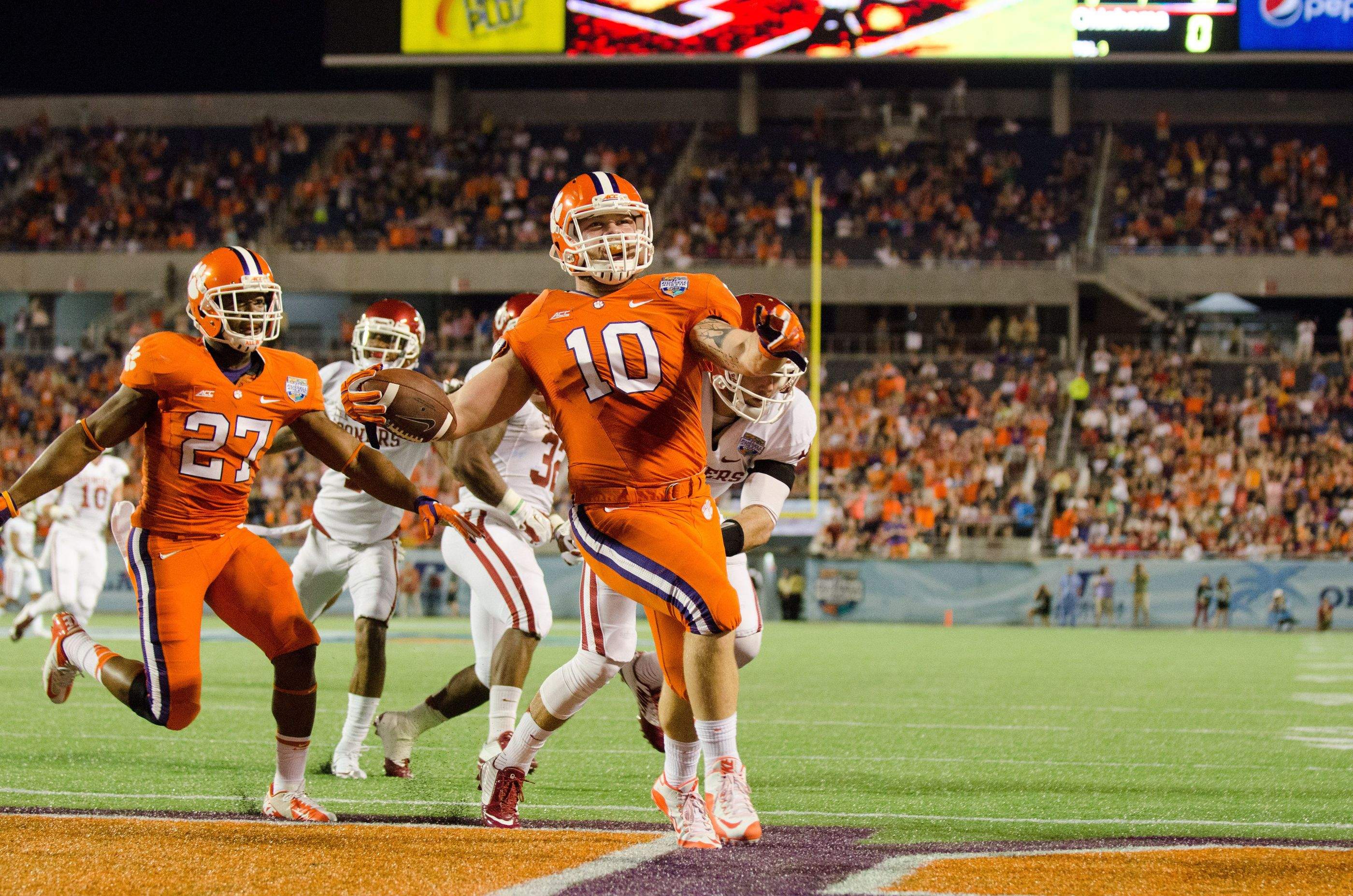 Clemson Preseason Preview
Clemson is a wolf in sheep's clothing. A very mean, determined, hungry wolf. The sheep's clothing is the ACC.
People in the SEC look at Clemson and say the usual, "What would Clemson's record be if they were in the SEC?" or "Of course Clemson wins all the time, they play in the ACC?" But we all know, deep down inside, SEC fans fear the wolf that Clemson has become under Dabo Swinney. I mean there's a reason why he has been dancing so much…
There are few schools that can compete with Clemson on  a consistent basis. They have the winning tradition, they have the ability to recruit, and they have one of the best home-field advantages in all of college football, which makes them a premier program. Let me put this another way. Clemson recruits like the SEC, tailgates like the SEC, and wins like the SEC. Clemson competes with and beats the SEC, because Clemson is an SEC type program, whether SEC fan's want to believe it or not. 
Clemson's Record: 12-0 (8-0) 
This is an obnoxious, in your face record prediction. We didn't pick Alabama to go undefeated. We didn't pick LSU to go undefeated. We didn't pick Tennessee to go undefeated. So why am I so confident in Clemson? Simple, they have a loaded, deep roster with a very favorable schedule. 
First, Clemson now has a Championship level roster. Under Tommy Bowden, the Tigers had just as many big time athletes and playmakers. What Dabo Swinney did was create depth at every position. Lose Mike Williams week 1 against Wofford, plug in Hunter Renfrow, Artavis Scott, Deon Cain, Jordan Leggit, Charone Peak and Ray-Ray McCloud. Shaq Lawson gets hurt in the College Football Semifinal, Kevin Dodd has a monster game in the Championship game. There are so many more examples from last year alone, and the depth on this year's roster is just as impressive. 
Then, there is the schedule. Clemson benefits from playing Auburn in week 1. Auburn will be starting quarterback, Sean White who threw for one touchdown last year, and will have issues throwing the ball nevertheless running a high functioning offense when kickoff rolls around in Jordan-Hare Stadium. Then, Clemson get's two cupcakes in Troy and South Carolina State to practice and build confidence before playing in Bobby Dodd Stadium against Georgia Tech, which should be a tough game. Luckily for Clemson, the Georgia Tech game is played on a Thursday night, meaning the Tigers get a couple extra practices and days of rest before facing Louisville in Death Valley the following week. Clemson has a bye week before playing Florida State in what should decide the Atlantic Division Championship. Then Clemson finishes off the season with glorified bye weeks in Syracuse and Wake Forest, before playing Pitt and arch rival South Carolina. 
Biggest Strengths: 
1.The Entire Offense: Let me make this as clear as I possibly can. Clemson has the best returning offense in all of College Football. Better than Baylor, TCU, and Oklahoma. Better than Texas Tech, Ole Miss, and Tennessee. Better than North Carolina, Houston, and Washington State. Clemson is better than everybody else. 
Clemson returns the best player in college football, Deshaun Watson, at quarterback. Clemson returns a 1,500 yard rusher, Wayne Gallman, at running back. Clemson returns most of their stars out on the perimeter in Leggit, Cain, McCloud, and Scott. They return one of the best offensive tackles in the country in Mitch Hyatt, who should anchor a strong offensive line. Then, on top of all of that, Clemson pulls in a recruting class which features three, talented top-50 wide receivers, four offensive linemen, and one of the top recruits in the nation, running back Tavien Feaster (below) from Spartanburg. 
I really don't know how to explain Clemson's offense much better than this – they are stacked. 
2.Defensive Line: Yes, Clemson lost D.J. Reader, Shaq Lawson, and Kevin Dodd to the NFL, but like I already stated, Dabo Swinney has recruited at such a high level that Clemson has reloaded on the defensive line. It all starts at defensive tackle with 6'3″, 300 pound Carlos Watkins (above). He is a preseason first team, All-ACC selection and has the numbers to back it up. With talented teammates surrounding him he still found a way to rack up 70 tackles, 8 tackles for loss, and 3.5 sacks… as a defensive tackle. 
Then, there is big Christian Wilkins who was named to the Freshman All-American team. Projected by some as a defensive end, Wilkins stands at 6'4″, 315 pounds. As a backup, Wilkins still had 84 tackles, 4.5 tackles for loss, and a pair of sacks.  Now he is a starter. Look for him to have a monster season. 
There are plenty of other talented players on this defensive line, but somebody I am excited to see play is true freshman defensive tackle, Dexter Lawerence. Listed as the second best recruit at any position in all of last year's recruiting class, Lawerence provides the depth and size Clemson needs to make it back to the College Football Playoff. He is 6'4″, 330 pounds and he had offers from every college football program in the South. Look for Lawerence to make a difference early in the season. 
Biggest Weakness: 
1.The NFL Draft: While I stand by my argument that Clemson has built a program where their roster is reloaded instead of rebuilt, even the best programs fall victim to a couple years of NFL draft picks. Clemson had six players on the defensive side of the ball alone, declare early for the NFL Draft this past April. 
Luckily for Clemson, this defensive line should help out this young and inexperienced linebacking corps and secondary. When Clemson plays Auburn, Georgia Tech, and Florida State they must control the line of scrimmage. If they can, the inexperienced back end of this defense should be able to hold their own for Clemson. 
While Lawrence and Feaster were the biggest signees for Clemson this past recruting class, a few big time recruits could be asked to contribute at linebacker. Tre Lamar and Shaq Smith both were ranked as top 3 linebackers in the nation last year. Clemson Tiger fans will be hoping their high school rankings reflect positively on the playing field. 
Biggest Losses:
Shaq Lawson/Kevin Dodd – DE

MacKensie Alexander – CB

Jayron Kearse/T.J. Green – S

Eric Mac Lain/Joe Gore – OL

Charone Peake – WR
Key Tigers: 
Deshaun Watson – QB

Wayne Gallman – RB

Mitch  Hyatt – OT

Ben Boulware/Cordrea Tankersley – Seniors, LB and DB, respectively. 

Tre Lamar – LB
Biggest Game of the Year: at Georgia Tech (Thursday, September 22) 
Everyone knows about the importance of beating Auburn to start the season. Of course, the result of the Florida State game has implications across the ACC and the Nation. Everyone knows Pitt and Louisville will be talented and great tests for Clemson. And then of course there is South Carolina. 
Clemson has not beaten Georgia Tech in Atlanta since 2003. Let that sink in Clemson fans. Forget Florida State, Louisville, Pitt, South Carolina, the ACC Championship Game, or the College Football Playoff, if Clemson does not right the ship against Georgia Tech in front of a lively, packed Bobby Dodd stadium on ESPN. Tech fans know the role they have played as spoiler in years past. Georgia Tech would love to ruin and end Clemson's season before it even starts. Clemson cannot let that happen. 
(http://www.postandcourier.com/article/20150927/PC20/150929387/clifford-clemson-relive-the-lott-touchdown-that-beat-notre-dame)
(http://www.thedigitalcourier.com/sports/clemson-beats-unc---for-acc-title/article_47df8ff2-9de0-11e5-bc04-47fbf78f3083.html)
(http://www.independentmail.com/sports/college/clemson/future-of-tiger-offense-shines-over-weekend-ep-1250960475-345218362.html)