SEC Midseason Review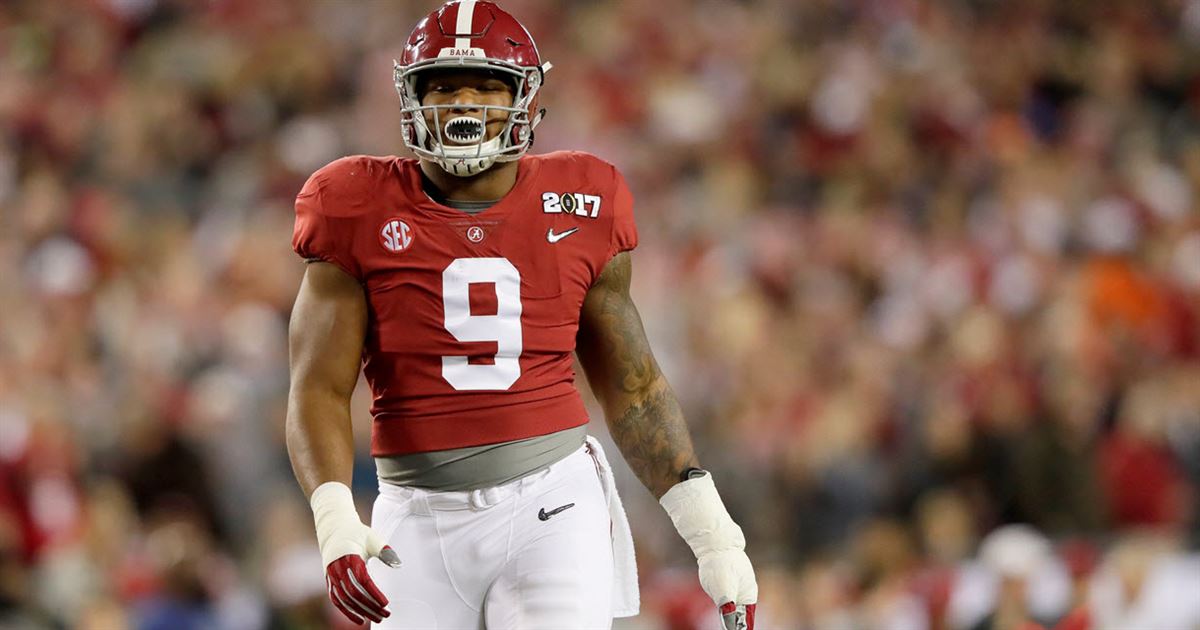 by Jacob Sexton
East
Florida: Honestly I don't know what's going on in Gainesville, it's been a bit of dumpster fire. Jim McElwain was fired Sunday after the Gators got curb stomped by Georgia the day prior. McElwain only made it 7 games into his third season at Florida, and the program looks about as terrible as it did when he got there. The team sits currently at 3-5, which I think we all know is unacceptable for Florida. Amid reports that McElwain's claims of death threats were false, and an offense where scoring 20 points is a big damn party foul, I can see why the move was made. The only problem is they're still a team that can't score the ball (the trio of Franks, Zaire and Del Rio have combined for 1,366 yards, 6 TD's and 6 Int's), and your turning the program, at least for now, to Randy Shannon, who already proved at Miami he can't handle the running of a major program. While their 47th ranked total defense is all well and good, they're 111th nationally on the offensive side of the ball, and that isn't going to change any time soon.
Regular Season Prediction: 3-8 (3-5) Fifth in the East
Georgia: At one point I strongly questioned removing Mark Richt and replacing him with Kirby Smart. Well today it is glaringly obvious that I may have jumped the gun. Georgia currently sits in the playoffs, and is a sure fire top four team. Georgia hasn't just been good this year, they've been dominant. Notre Dame was the only team to truly give the Dawg's any competition. They easily have one of the most dominant running games in the country with Sony Michel and Nick Chubb, both of which are sure fire NFL backs in my mind. Both Michel and Chubb are bruising backs with break away speed and a plethora of moves. However, they haven't been the main difference maker in Georgia's 31st ranked offense. Freshman quarterback Jake Fromm has been the key playmaker in a Georgia passing attack that has been rather feeble in recent years. Even though he has not been heaving the ball for 400 yards a game, he's controlled games and won them by not making mistakes; in the same way AJ McCarron and Greg McElroy won at Alabama. The freshman's effectiveness has made many question whether or not last years starter Jacob Eason should pack his bags and move on (the answer by the way is yes he should). The most powerful part of this years Bulldog team is there defense which ranks 4th nationally; yeah you read that right they're scary good. This Georgia team is the best in years, and they should only get better as the season goes on. The win against South Carolina this past weekend proved that they can take a punch or two, and hit right back to pull out a win. Something that they will need if they play Bama in the SEC Championship.
Regular Season Prediction: 12-0 (8-0) First in the East
Kentucky: Big Blue Nation couldn't have possibly believed that they were in for a season as good as this one before the year started. Kentucky sits at 3rd in the East, and they're 6-3 on the season. Far better than most predicted. The only problem with this Kentucky team is when they win it's close, and when they lose it's bad. A one point loss to an abysmal Florida squad, an absolute dismantling of Kentucky by Mississippi State,. and losing to a Ole Miss team starting its back up quarterback made this team look like nothing more than any other Kentucky team of recent memory. Stephen Johnson and Benny Snell Jr. have carried the load offensively for the Wildcat's and for good reason.  There honestly isn't an overload of talent on this offensive unit outside of this back field and C.J. Conrad who's been rather quiet this year. All in all, this year has to make Wildcat fans incredibly happy. Mark Stoops' program seems to finally be turning a corner. At the end of the day, Kentucky was bowl eligible before even having to play a November game, so celebrate Wildcat fans things are looking up.
Regular Season Prediction: 7-5(4-4) Third in the East
Missouri: There is not a crazy amount to say about Barry Odom's team this year. A 4-5 record doesn't really look good from anyones perspective, and not being competitive in conference makes you look even worse. Getting drilled by Purdue and giving up 43 points to Missouri State shows the glaring holes in this team as a whole. While most people would look at Drew Lock's numbers and just assume that defense is the problem, if you take out Connecticut, Missouri State, and Idaho, their offensive numbers begin to dwindle as well. Drew Lock, however, has been tremendous this year, as his numbers do make it appear. When Missouri's offense has been clicking this year watching Lock sling the ball up and down the field is so beautiful that youngster's probably conjuring up memories of Chase Daniel and Blaine Gabbert for some fans. This past weekend's 45-16 win over Florida was good example of what this team can do, but it should be taken with a grain of salt, as this Mizzou team may be the most up and down squad in the SEC. At the end of the day, its a down year for Missouri. More than likely, they're a year or two and a few solid defensive recruits away from being a top self team again.
Regular Season Prediction: 7-5(4-4) Fourth in the East
South Carolina: Year two of the Boom Muschamp era at South Carolina has started off with, well, a boom. The Gamecocks sit currently at 6-3 and second in the east; a much quicker turn around than anyone expected. After finishing 6-7 in Muschamp's first year, and 3-9 the year before, this was considered another rebuilding year for the Cocks. Very few people predicted them to be competing at the top of the east. Behind the arm of Jake Bentley, a trio of young backs, and a rejuvenated defense, USC looks like the second best team in the division. Had they held on to a 10 point second half lead over Texas A&M, Muschamps team would be sitting at 7-2 with the losses coming by way of Kentucky and Georgia, which I think any gamecock fan would've taken preseason. The most impressive part of all of this, the Gamecocks are doing all of this without their best player, Deebo Samuel, and 10 other players currently injured. Bentley's development into a top tier quarterback has been able to spearhead the teams revival, if he can continue to trend upward so will this team. Overall Muschamp and his stud sophomore quarterback have them Gamecocks back on an up tick, and looking like they'll be extremely competitive again and compete for a divison title; they just won't win it this year. The game against Georgia showed the Gamecocks can compete with the nations best, they just aren't quite there yet. A few more key players here and there, and the Cocks should be competing for the division again.
Regular Season Prediction: 8-4(5-3) Second in the East
Tennessee: I have no earthly idea how Butch Jones is still employed. I feel like I'm in the Upside Down, because Tennessee is in a dark scary place, and the only people that seem to notice can't do a thing about it. If you follow what we do here on Front Porch Football you've probably caught on that we all have our opinions on Butch Jones, and mine are probably the harshest. At the beginning of the season I predicted a terrible season and that this would be Jones' last in Knoxville, and as of now I feel pretty confident in those predictions. If you look through the season Tennessee's marquee performances have been against Indiana State and Georgia Tech, not exactly big statement wins. The Vol's rank 125th in total offense and 58th in total defense, which is frighteningly bad and adequate at best. Not to mention the fact that they just lost 43% of their total offense due to John Kelly's arrest. I honestly believe the Brendan, Chris, Max and I could out coach and out recruit Butch Jones and his staff with the season they're having. To be quite frank, there's only been one real bright spot this season for Tennessee and that's the fact that the Grumors are flying around right now, and I'm all the way in on them. Jon Gruden to Tennessee makes so much sense its not even funny. For one, Tennessee is going to have to take on a massive rebuild, and Jon Gruden has the coaching ability and persona to rebuild a program. More importantly though, Jon's son, Deuce, was born to be the king of college strength and conditioning coach. Nothing could possibly be better for the SEC than Jon making the play call "Spider 2 Y Banana" at least 30 times a game. It's going to be an intense offseason for the Vol's, so strap in Tennessee fans it's gonna be a bumpy road.
Regular Season Prediction: 4-8(0-8) Seventh in the East
Vanderbilt: Much like Missouri there isn't to much to really say about Vandy other than they're pretty much right where everyone expects them to be every single year. The Commodore's seemed to be on an upward trend before the departure of James Franklin, but appear to have stalled out under Derek Mason. Granted it isn't the easiest situation to win in considering who he has to compete with just to get solid recruits. They started the year 3-0, but after Alabama absolutely hammered them week 4 they just haven't been able to recover. Kyle Shurmur's looked rather poised, and skilled in the pocket at times this year, and at other times he's looked like he's the back up for your local highschool team. Ralph Webb has been the man in the backfield for Vandy for years now but he hasn't had a really solid game all year. There isn't really much to look at in Nashville, more than likely it's time for Mason to change his method of attack and hope he can turn things around fast.
Regular Season Prediction: 5-7(1-7) Sixth in the East
West 
Alabama: I think this one's pretty self explanatory, I shouldn't really have to harp to much on the Tide's talent. Nick Saban is clearly the best coach in college football, maybe ever, and he once again has his team in a tremendous position to compete for a national title again. Jalen Hurt's is still one of the nation's most dangerous threats, despite the fact that he hasn't done too much with his arm all season. The fact of the matter is, Bama has been so damn good that Calvin Ridley can account for pretty much half of their receiving yards for two reasons. One he's that good of a receiver.  Two, they don't have to force the ball down the field through the air. The Tide have 3 guys with more than 80 carries, and 4 guys with over 250 yards. Damien Harris and Bo Scarbrough are one of the scarier duos carrying the ball in the country, and when you throw in Najee Harris, the 6'3", 230 pound, former five star back as their third option at running back makes me fear for my life a little bit. Shockingly, on the other side of the ball, the team that's always really damn good at defense, is once again really damn good at defense. So good that they are once again have a top three defense in the country. Minkah Fitzpatrick and Ronnie Harrison lead arguably the best secondary in the country, and Da'Shawn Hand and Rashaan Evans lead another horrifying front seven. The old joke about Alabama having an "NFL defense" is once again something we're going to have to deal with announcers hammering it into the ground all season long. Once again this one's pretty self explanatory, Alabama's really good, and they're gonna be really good for awhile. 
Regular Season Prediction: 12-0(8-0) First place in the West
Arkansas: Brett Bielema's team hasn't be great and they haven't been terrible so there isn't to much for me to carry on about here. The haven't won any games they should've lost and they haven't lost any they should've won. The schedule's been hard on the team as a whole, playing USC, Bama and Auburn is never gonna go well for anyone. The problem is in their losses they been really, really bad and in their wins aren't quality ones. Austin Allen and Cole Kelley haven't been terrible and they haven't been great. Williams, Whaley and Hayden have all been good but not great carrying the ball. The defense ranks 92th nationally, which actually is horrendous, otherwise this team is probably a .500 team, honestly this team is so average is almost painful. Bielema may want to regroup at the season and rethink his strategies as well because he has to do something to improve his squad.
Regular Season Prediction: 7-5 (4-4) Fifth in the West
Auburn: The Tigers look really good this year. Auburn may have their most complete offense in the Malzahn era, and the defense has been game chantingly good for the majority of the year. The best part of the year is the fact that Malzahn finally has a quarterback who can actually make a difference through the air, and I'm filled with joy because now we'll hopefully finally get to see Malzahn's system flourish. Jarrett Stidham has been very impressive in his time as the starter, as many expected. The Baylor transfer has been a massive upgrade from what the Tigers have had at the position in recent years. Pairing his arm with the legs of Kerryon Johnson has made this offense deadly, but now that Kamryn Pettway has also returned to the backfield, they're just scary as hell. Much like Bama, they've been pounding the ball on the ground, with 3 backs over 200 yards, and playing strong defense. Auburn's defense ranks 14th nationally, making them a premier defensive team nationally. All in all, this is a very talented Auburn team poised for a bright year. Dominating A&M this weekend is good for moral as they head into the home stretch, controlling their own destiny with games against Bama and Georgia.
Regular Season Prediction: 8-4(5-3) Third in the West
LSU: For all his flaws as a coach, Ed Orgeron has done a solid job in Baton Rouge this season. The Tigers sit at 6-3, and that may not be enough for some fans, but the team is trending in the right direction. I love him more than most do, but Derrius Guice is a monster who very few can contain. Granted they'll most likely lose Guice to the draft this year. If Orgeron can go from Fournette to Guice and still be successful, I trust he'll be able to transition away from Guice just as easily. Etlings been really solid at quarterback for the Tigers, which helps account for some of the improvement we've seen this year. He's been efficient and taken care of the ball astoundingly well, as his 71.5 QBR would suggest. The big key for LSU next year will be finding someone to replace Etling without taking a step back, which in recent years has been almost impossible for them year to year. The Tigers 17nd ranked defense, spearheaded by Arden Key, have been stellar all season and continure to improve week to week. The Bama game showed there are still a lot of holes in this LSU team. They may not contend this year or the next, but I have confidence in Coach O, give him some time and I think he can build LSU back up.
Regular Season Prediction: 9-3(6-2) Second in the West
Ole Miss: To quote my dear friend Brendan, Ole Miss fans have got to be wondering, "Hotty toddy, gosh almighty, who the hell are we?" Granted losing the swaggiest quarterback college football has ever known, Chad Kelly, and having your head coach get fired in the preseason because he couldn't covertly figure out how to cheat on his wife using an escort service, does make things a little bit more challenging. All of that's bad, but there is some real talent on this football team. Shea Patterson is the real deal at quarterback, and he had already eclipsed 2,000 yards on the season before going down a few weeks ago. Since then, Jordan Ta'amu has done a great job leading this team. The win over Kentucky over the weekend was huge for this team. Jordan Wilkins is a starting running back pretty much anywhere in the country and A.J. Brown is a premier pass catching threat. The real problem with this team is the fact that you can't really win games with the 118th ranked total defense. It's not going to be a great year for the Rebels, but I do expect them to be quick out of the gate searching for a head coach when the season ends, hoping to breathe some life back into this program.
Regular Season Prediction: 5-7 (2-6) Seventh in the West
Mississippi State: It has been a very up and down season for the Bulldogs. They've dominated multiple games this season (their thrashing of LSU for example) and in their 2 losses this year, Georgia and Auburn made it appear nationally that Mississippi State isn't back at the level of competing with the big dogs of the SEC yet. To be quite frank, they aren't back at that level yet, they've been pretty damn good at points this year and they've been just horrendous at other points. I love Nick Fitzgerald, he may be this best quarterback in the conference, but he unfortunately is pretty much all of the offense. Outside of his 1,459 yards through the air and the 1,577 yards he and Aeris Williams have combined for there just isn't much to celebrate on that side of the ball right now. Their leading receiver has 255 yards on the season and their 7th has 105 yards. While variety within an offense is good it helps to have at least one go to target. Luckily their defense has been tremendous this year (7th nationally) and its help push them to being above average nationally. Dan Mullen's team is really solid, and they'll continue to get better and better each week, but they wont be a real factor in the west until next season in my eyes.
Regular Season Prediction: 9-3(5-3) Fourth in the West
Texas A&M: A&M is another team that I see trending upwards, but unlike the other teams I've already talked about I think the Aggies need to split ways with Kevin Sumlin. I see a lot of potential in this team and I think he's the reason the Aggies haven't been great in recent years. They've always had the quarterback talent and receiving talent to score the ball, as well as a great deal of defensive talent. They've had chances to be a really good team, but somethings held them back, and I think it's their coach who's still riding on the coat tails of the successful seasons he had with one of the most dynamic players we've ever seen (Johnny Freakin' Football in case you forgot that great big American winning machines name). I really like Mond, with 1,300 yards passing and 350 rushing he's shown he can be dynamic with the ball. A poor mans Manziel if you would. Williams, Ford and Bussey have combine for 1,000 yards rushing already, which shows the balance the offense has, and Christian Kirk is still one of the biggest game breaking threats in the country. They lost a lot defensively last year, but their still sitting at 63rd nationally defensively, which tells me that the talent is there for this team and they can make that leap into national relevance. If I'm on the board at A&M, after bowl season ends, I'm seriously pondering Sumlin's future with the school. After all winning in the SEC can make you a king and being mediocre can get you fired fast.
Regular Season Prediction: 7-5(4-4) Sixth in the West
(Featured Image from 247 Sports )